ENGINEERING
Monitoring Buoy
Oceantech has produced ocean, weather and environment monitoring buoys which are suitable for various marine environments and carried out overall ocean observing buoy business from installment to maintenance service.
We've provided ocean observing buoy that satisfies customer needs and requirements with its special accumulated know-how and also, secured best technology in this field.
Business details
Drift Buoy

Drift Buoy was developed to observe ocean current, which is suitable for marine environmental condition of South Korea.
It provides not only location information to observe ocean current but also real-time information about ocean & weather observation including surface temperature and wave height at request of user's.
In addition, it could adjust length of drogue which is equipped on underpart to provide in a suitable format for user's operation environment.
INBUS(INtelligent BUoy System)
INBUS Buoy was equipped with intelligence operating system using winch on itself which observes ocean and weather environment.
Users can observe desired water level using profiling through operating system.
Moreover, this ocean observing buoy system allows user to control and set up remotely by using self-developed monitoring system.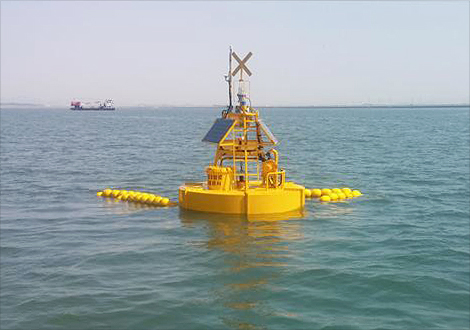 Rip Current Monitoring Buoy
It's designed to prevent accidents in rip current that have occurred frequently in summer season.
Rip Current Monitoring Buoy transmits real-time wave height observation data and monitors rip current.
Since it's equipped with observation device for weather (wind direction and speed, temperature, atmospheric pressure) and ocean (water temperature, salinity, Current direction and speed, wave height, wave direction) and provides integrated information about ocean observing and rip current monitoring.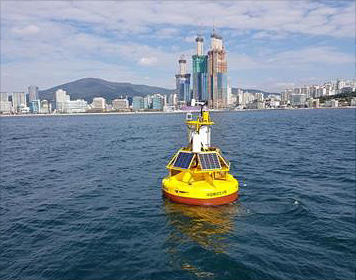 Compact Wave Monitoring Buoy

As Compact Wave Monitoring Buoy was developed for Korean coast and equipped with high-precision wave height observation device, it can observe wave height precisely.
It installs various observation device at user's request, if wanted and also, various telecommunication equipment such as satellite and CDMA depending on operation area.
In addition, it could be easily launched and recovered since it's only 1 meter in diameter which makes it available in the coast.
Offshore Monitoring Buoy

Large-sized buoy is designed to prevent wilful damage and harm by external shock and this system enables to stably observe in the deep, coastal water and even ocean where many ships run.
The buoy operation is available even if some parts get damaged and they could be replaced with other parts so that you could use it for a long time economically.
Also, it's equipped with intelligence power control system which combines primary and secondary battery so that you could monitor power control and consumption in real time.
It aims to collect observation data of ocean (wave height, wave direction, Current direction and speed, flowmeter, water temperature, salinity) and
weather(temperature, atmospheric pressure, wind direction and speed) and also, various observation devices can be installed by the request.